Tredion Castle was host to many illustrious owners in the period from the XIV to the XV century, but even more illustrious guests were to follow. :
King François 1st who on 31 August 1518 dined and stayed in the castle for one night, before travelling the next day to Vannes, at the time a "Small City of 9,000 souls".
The Queen mother Catherine de' Medici, in 1570, regent of the Kingdom. During the wars of religion which divided the French at the end of the XVI century, Catherine de' Médici played on the rivalry "between the Great Catholics and the Great Protestants" to weaken them and impose herself as the indispensable arbiter. It was in this context in May 1570 that Catherine de' Medici's visit to Tredion must be framed.
Charles IX came to stay for a month in Chateaubriand. The King was accompanied by his mother and an important retinue. He then stayed in the Castle de la Forêt Neuve, in Glénac (near Redon), at the home of Guy de Rieux.
François I
Accompanied by Queen Claude of France
François I, wishing to show his kingdom to his wife, Queen Claude of France, daughter of Anne of Brittany (but born in Romorantin in 1499), started their trip by a visit to the Duchy of Brittany that she had inherited from her mother and that she had never seen.
On this occasion, coming from Nantes and travelling towards Vannes, they stopped at Tredion Manor on 31 August 1518, where they dined and stayed the night with their escort, that, it is said included more than 10,000 people and whose caravan tailed back several tens of kilometres…
Catherine de' Medici
Played host to Gaspard de Coligny, head of the protestants, at Tredion castle in May 1570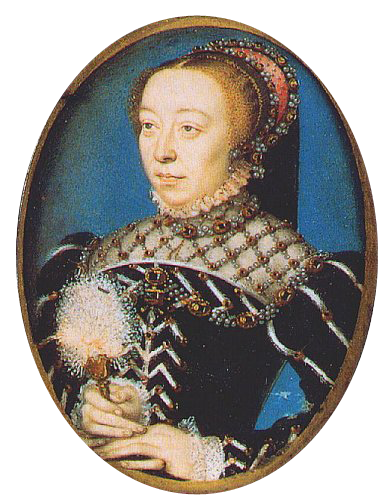 Did Catherine de' Medici accompany the King to the house of Guy de Rieux? We do not have any evidence of this whatsoever. We do know, however, that she was host to the Coligny family in Tredion a few days later (the Coligny's and the Rieux were the most war-like Protestants in Brittany).
Guy-Paul de Coligny inherited Tredion in 1567. In May 1570, Guy-Paul de Coligny was only 15 years old. Was his uncle, the admiral of France, Gaspart de Coligny, in Tredion to welcome the Queen mother? We cannot be certain, but it is very likely.
Catherine de' Medici stayed in Tredion Castle on at least two occasions. The first time was from 19 to 23 May 1570, where she wrote a letter to "Messrs President Nicolay and Master of Accounts Guyot, the King's advisors, my son, Charles IX, dated "19th day of May 1570″, a copy of which is reproduced below (facsimile and translation into Old French. These letters can be consulted at the French National Library).
A little later, she stayed at the castle again for a week.
In a second letter, it appears that Charles IX did not accompany Catherine de' Médici to Tredion.
The Queen Mother did not leave the King and abandon the luxurious life of the court without good reason.
During her stay, she drafted the Saint-Germain peace treaty, which was signed on 8 August 1570, allowing protestants freedom of conscience and giving them permission to practise their faith.
But the truce was short-lived. Catherine de' Medici soon considered that Gaspard of Coligny had an undesirable influence on the King… The protestants were massacred during the night on Saint Bartholomew's day 24 August 1572.